The Harris Mechanical Story
Reliable Service and Prompt Responsiveness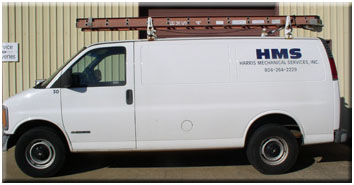 Harris Mechanical Services, Inc. is a truly complete commercial only mechanical services company that prides ourselves on reliable service and prompt responsiveness to our customers' needs. Since 1986, we have served Richmond area businesses with their Air Conditioning, Refrigeration, Heating and Plumbing needs. Harris Mechanical offers project work for system replacements or additions for both HVAC and plumbing.
As a service company, we place emphasis on Preventive Maintenance of HVAC systems in order to provide greater system function and reliability, improved system efficiency and reduced need for emergency repair. This helps companies avoid the larger costs associated with breakdown maintenance. But, if emergency repair is needed our team is ready to respond 24-hours a day 7 days a week. If your business is in need of mechanical services in the Central Virginia area, you can expect responsive customer service, experienced servicemen who professionally diagnose and repair problems quickly, and very competitive rates when you call Harris Mechanical.
Harris Mechanical History
Our sister company Harris Heating and Plumbing (HHP) was founded in the 1950's. It is a construction company combining professional heating, air conditioning, and plumbing expertise with reliable service. Through company growth and a commitment to excellence in customer service, Harris Mechanical Services, Inc. was created in 1986.  Since then it has been our mission to uphold these core values. While we have the personal touch that one might find with a smaller company, the knowledge and experience of our management team and infrastructure, coupled with the resources and manpower of our sister company, HHP, make Harris Mechanical Services at the top of its chosen profession, and able to handle most any service or project request. Combined, this team of over 100 professionals in the field makes no job too large or too small.
Staffing and Training
Our success is based on many things. We hire our employees for all positions based on attitude as much as aptitude.  Becoming a Harris Mechanical Services employee starts with a "can do" attitude and those technicians not willing to meet or exceed our customer's expectations will not find a home with Harris Mechanical.  Management stresses the importance of streamlining our daily procedures and processes to keep things simple while maintaining flexibility to handle individual customer requests. Factory training is offered annually to keep technicians updated in the field. The training provided is individually chosen to improve the technician's knowledge of specific equipment found on the buildings assigned to them.
Harris Mechanical Services is in the business of providing quality, pro-active, preventive maintenance to all of our customers.  We also make it our business to provide superior communication and explanation of work every step of the way.  Fixing your mechanical problems timely and properly the first time is our priority.  Honesty, integrity and responsiveness are attributes in both our employees and our customers that make for a great "partnership" when trying to grow our business and will ensure a positive experience for everyone.