1950 in Central Virginia – A period of confident growth for construction, mechanical, and maintenance service companies. It was also the beginning year of operation for Harris Heating and Plumbing, a construction company combining professional heating, air conditioning, and plumbing expertise with reliable service.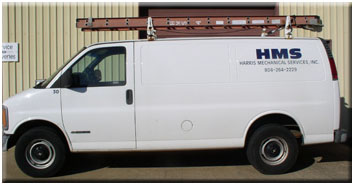 Company growth and commitment to excellence in customer service created Harris Mechanical Services, Incorporated in 1986. Its mission – continue the foundations of heating, air conditioning and plumbing services through prompt responsiveness to its customers' needs.
Today, Harris Mechanical Services, Inc. is truly a complete mechanical services company with emphasis on reliable service.
Harris Mechanical Services Include:
Preventive Maintenance Agreements.
24 hour emergency service for Agreement Customers.
Spot service for non-agreement customers.
Fixed price, or time and material renovation work to rejuvenate HVAC Systems.
Mechanical and plumbing service on additions to buildings not handled by our Construction Company.
Preventative Maintenance
As a service company, we place emphasis on Preventive Maintenance of HVAC systems in order to provide greater system function and reliability, improved system efficiency and reduced breakdowns. This avoids the "hidden costs" of breakdown maintenance which is no maintenance
"Hidden Costs" of Breakdown Maintenance:
Increased energy costs, as the system becomes less efficient.
Loss productivity to occupants when system is not functioning properly.
Cost of management time in getting system repaired.
Loss of customer confidence if environmental systems are not comfortable.
Excessive cost of repairing system when it breaks down.
Cost of system replacement sooner.
The Harris Mechanical Services "Benefits Plan" for our customers:
Responsive customer service commitment.
Experienced servicemen who professionally diagnose and repair problems quickly.
Very competitive labor rates.
One telephone number takes care of your HVAC and plumbing problems.
Other Services:
We also offer expertise for the following:
Sheet Metal
Plumbing
Backflow Certification
Temperature Controls (Pneumatic or Electric)
Operating Hours
Monday through Friday
7:30 am – 4:30 pm
For Emergency Service after hours, on weekends, and holidays, call (804) 264-2229
Phone Numbers
Main Number: (804) 264-2229
Fax Number: (804) 264-6531
Address
P.O. Box 28271
Richmond, VA 23228